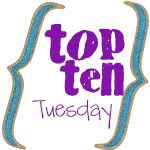 So since it's top ten Tuesday, I was trying to think of a theme list to come up with.
Then, I thought why not have a list of the Top Ten things I am BLESSED with.
I've really been trying to read God's words daily and put them into action in my everyday life. Last night I was doing my bible verse reading for preparing for my Mission Trip. I've read lots of bible verses, but for some reason, even though I've heard it a thousand and one times, it just grabbed at me last night. I really plan on remembering this one each day and walk in it.
"Love the Lord your God with all your heart and with all your soul and with all your strength and with all your mind, and Love your neighbor as yourself."
Made me about all the reasons to feel blessed and how I need to work on being able to pass blessings onto other people all the time and to remember that I when I go to Eleuthera in 10 days. I am not trying to sound snobby, nor do I think of myself in a way that I am better than those down there, but I want to know how to talk to them and be able to relate, b/c in the end we all have the same needs!
My Top 10 reasons I am Blessed:
1. I have amazing parents, couldn't of asked for better! They have raised 4 successful children and we all get along and have fun when we get together.
2. I have an awesome Mother and Father-in-law. I really know how much I appreciate them and love how giving and loving they really are. They have the most amazing hearts.
3. On the note of my in-laws, they gave me a truly Amazing man, that I call my hubby. I love him so much, he's a hard worker. I respect all the effort he puts into his job to provide for his family. So much of their business rides on his shoulders and he does it ALL! What a great man!
4. Being that I have a Great hubby, God also blessed me with a man to call my girls, ours! I am blessed that we were given 4 wonderful little chickies, healthy and beautiful!
5. I am blessed with 2 brothers and a sister who I cherish each and every day all for different reasons. I want them to know how special they are to me and I would do anything for them! (They have great spouses too)
6. I am blessed with fun friends! I am able to count on them in a pinch and hope they know they can always count on me too, whenever needed!
7. I am blessed to have a church to call home! We have made some great connections there, and pray that we continue to grow in our relationships.
8. I am blessed to have freedom! I can't imagine life without it.
9. I am blessed to have a bible that I can open up and read whenever I feel like it. God can lead to me to just what I need to read too, no matter if I want to hear it or not.
10. I am most blessed to call this crazy life mine! I get to live it out each and every day!!!!!